Budget Scrapbooking: How to Save Money on Scrapbook Products
Mar 15, 2022
Stock photos in this post courtesy of Rirri on Unsplash.
Scrapbooking can sure be an expensive hobby, amiright?! Whether you don't have a lot to spend or just like finding deals or scrapping on the cheap, here are a bunch of ways you can save a lot of money on your scrapbooking products.
I may receive commissions for purchases made through affiliate links on my site.
1. Shop at discount scrapbook sites
There aren't as many as there used to be but I can think of 4 places that are still around: Paperhouse Productions, Scrapbooking for Less, Create for Less, and Peachy Cheap/Peachy Planner Deals.
For an example, here is today's Peachy Cheap deal for $17, regularly $48. It's a past line from Simple Stories - but they also have new releases sometimes too.
Wowza. Think about how many layouts you could get done with that kit and a stack of card stock! Just don't snooze or you'll lose: Per their FAQ page, things are 40-90% so they go fast and are only listed for 1 day regardless. If you miss it, you miss it.
2. Hoard your cash and gift cards
For your birthday, Mother's Day, anniversary, admin professionals day, etc., ask everyone for cash or gift cards you can spend on your favorite hobby. (If they give you the wrong kind of gift card, did you know there are ways you can turn those into cash?)
And this is a little out of the box but how else can you "hoard" cash? Could you cancel Netflix + Hulu and use that $33/month for scrappy supplies? (You don't need no stinkin' TV! You'll be scrappin'). I recently reviewed our cable plus all the other subscriptions that had mounted up over time, consolidated it down to Hulu TV+ and Netflix, and saved almost $100/month! << That's my scrappy money, no toucheeee!
Another idea: Maybe rein in your Starbucks habit and make your coffee at home? You could easily save $30-40/month depending on your drink and how often you go. Let's be clear: In no universe would I suggest you stop drinking coffee!! But there are definitely ways we can save money on it ;)
Could you sell your unused books; take a little side job; work out at home instead of the gym? If you're on a budget for scrapbook supplies, you may already be on a tight budget in general. But just in case, maybe these will trigger some ideas for you.
3. Check sale ads and use coupons at big box craft stores
Okay, this is my sweet spot. I SUPER excel at working this angle to save much money on scrapbooking supplies! In fact, it's very rare that I'll pay full price at stores like Michaels, Hobby Lobby, and Joann who are well-known for their weekly ads with tons of craft supplies on sale. There are usually things specifically in the Scrapbooking or Papercrafting categories. (If not, look for Art, Floral, Memorykeeping, etc for items you can use on your scrapbook pages).
They also have weekly coupons that are usually a significant discount, anywhere from 20 to 40%, sometimes even 50% off or BOGO deals! Make sure to read the fine print on the coupons before you shop. There may be restrictions like they don't apply to specific (usually more expensive) items, are good only online or only in-store, etc.
There may also be nice surprises like not just 20% off ONE item but on your ENTIRE purchase! Also, seems like a no-brainer but check the coupon effective date(s) as well; sometimes they'll publish a week at a time or something and you get to the store to find, oops, that one doesn't work til Friday, lol.
4. Get on mailing lists and join reward programs
This kind of goes along with #3 (sale ads and coupons) but instead of just manually checking the ads or seeing what comes across your social media feed, be more proactive. Joining the mailing lists for any big box, mom n pop, and online store who sells craft/scrapbooking supplies is a great way to save money.
The discounts pop right into your email inbox! Not only will many companies instantly send you a discount code when you join their list, they'll also continually send out discounts, coupon codes, early bird deals, and more! Don't forget your local scrapbook store may have reward cards, sales, even holding scrapbook garage sales with significant discounts.
Pro tip: If you're going to join a lot of these mailing lists, you may want to start a separate free Gmail account. Then these tempting/sometimes annoying "sale!" emails won't be flooding your regular inbox every day.
This could keep you from being tempted by sales and such at times when you really shouldn't be spending the money - yet you can go check that inbox when it IS time to shop and all the SBR news will be in one place!
And don't forget to join any "rewards" or "club" programs you find. Those may give you access to things like special discounts, early bird shopping hours, etc. If nothing else, utilize your Rewards card/app each time you make a purchase from those stores. Before you know it, you'll have a "reward" - AKA some cash money to spend, woo hoo!
I'm a member of Michaels Rewards. I use the Michaels app on my phone whenever I go in there. I can easily see the weekly ad, pull up all coupons to be scanned at the register, and see if I have any rewards to spend.
Here are some screenshots from my Michaels Rewards app right now: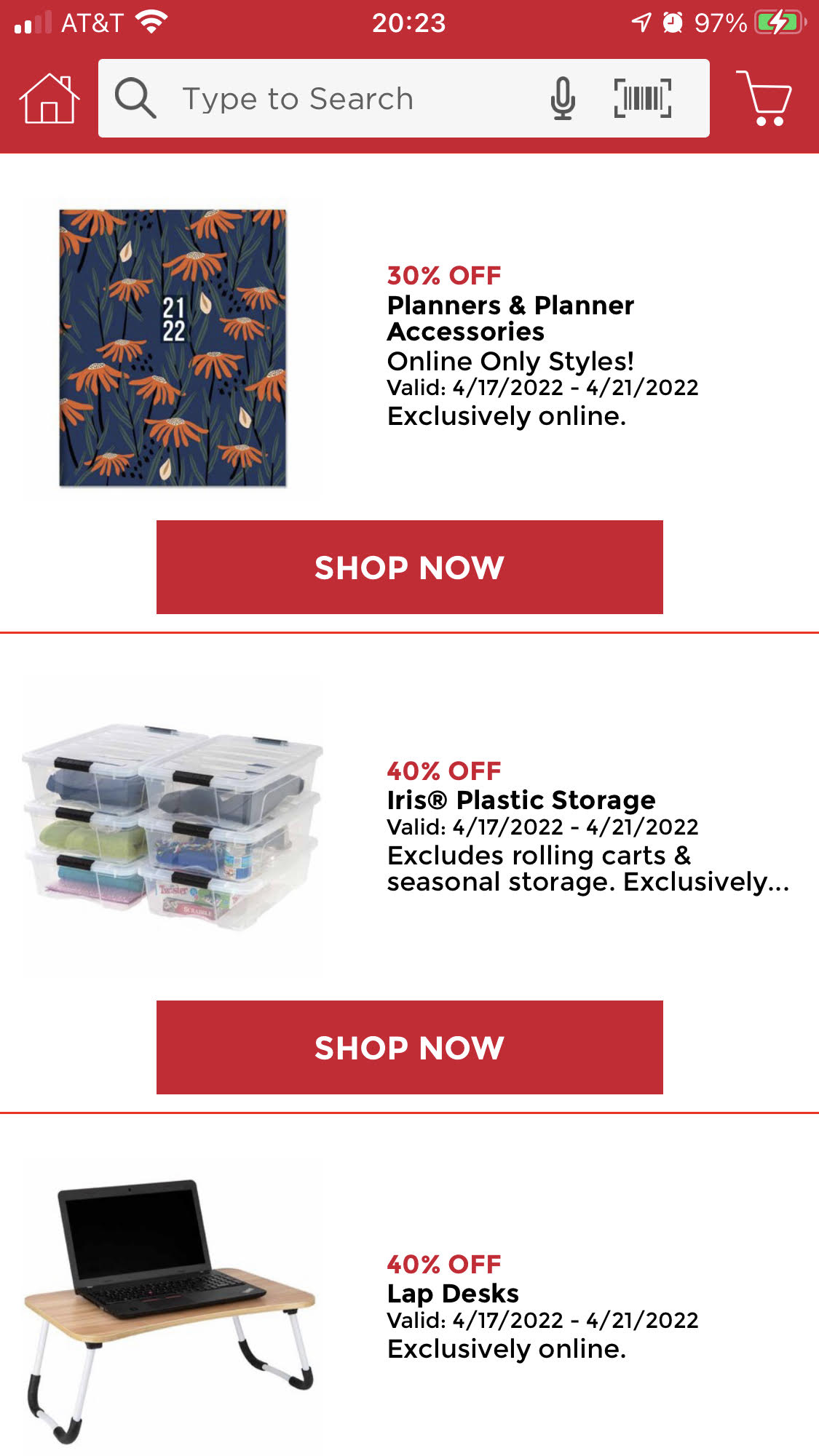 Notice the "valid" dates, that they're available online only, and most importantly, the huge discounts!
On this next shot, you can see that these items discounted AND you can see how much you'd earn in Rewards.
There are those terms and fine print I was talking about👆🏼👆🏼👆🏼👆🏼 . For instance, if you're planning to use your Rewards to buy a gift card for your mother-in-law's birthday, it ain't happening 😂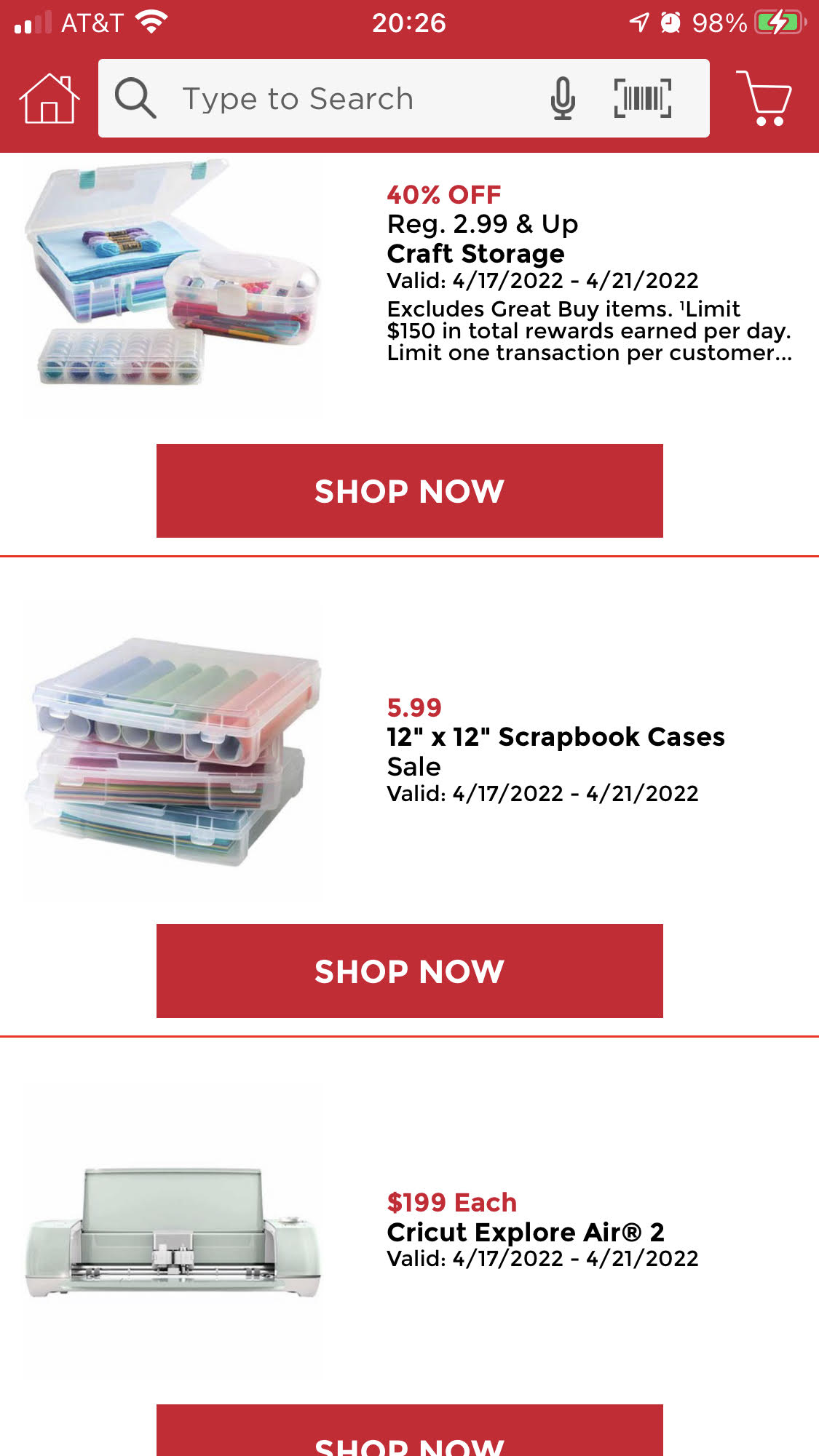 5. Purchase a die-cutting machine
Speaking of Cricut! I know, I know, they're not cheap and the whole point is that you're on a budget. But what if you waited for a sale, used Rewards, your birthday cash, maybe even split the cost with a friend - could you cover those larger purchases?
Because if you invest in a die-cutting machine, you could never have to buy anything again except for paper, adhesive, albums, and photo printing, right? It's amazing all the things you can make with these machines - from die cut 12x12 papers, page titles, alphas, shapes, photo mats, tags, stickers, cards, stencils, washi tape, mini albums, and more.
You could even - hear me out - get really good at using your Cricut (or Silhouette) machine with all the free tutorials and great classes out there. And then you start a little online shop selling Cricut decals and stickers (physical products) and/or cut files (digital products). Well, whatever shall you do with the money you earn?? Hrmm 🤨
6. Check out discount department stores
This is definitely not the boon for scrapbook shopping that it used to be back in scrapbooking's hey day. But there are still occasional deals to be found at stores like Ross, HomeGoods, and Marshalls. Scrapbooking supplies specifically may be in short supply but maybe they'll have party goods, stationary, journals, or other crafty supplies that can be pulled apart or otherwise adapted for scrapbooking?
The place definitely to check for great deals is Tuesday Morning! The one in my town closed 😥 But they were the greatest at having scrapbook stuff and at great discounts - the whole side of an aisle and sometimes even an endcap. They used to have probably 30 or more paper stacks any time I would go. I sure miss ol' Tuesday A.M. (sniffle).
OH. MY. LANTA.
This pic is from their website. Look at all that scrappy / planny stuff, and that's just the clearance section. If you have a Tuesday Morning within driving distance, make sure and sign up for their Perks email program.
7. Check the Clearance
Speaking of Clearance, this is often the place to find some hidden gems for heavily discounted prices. Many brick and mortar stores have a clearance aisle - Michaels, for one. I've gotten really lucky with Michael's clearance bins with things like page protectors and my scrapbook albums (I like the 12x12 D-ring albums, not picky on which brand).
Online stores as well will usually have Clearance, Sale, or Deal links in their menu. We know it's not going to likely be the "latest and greatest" stuff but who cares? If you like it and will use it, that's all that matters.
8. Repurpose other paper goods
Hold on to greeting cards, wrapping paper, gift bags, and party supplies and see if you can cut things out for embellishments or otherwise use them in your scrapbooking (use an archival spray before scrapping with them, tho!)
9. Print your own supplies
Get a pack of white cardstock when on sale at Mike's, Staples, etc. and go to town, printing things for use in your scrapbooks with your computer or device and your printer! Here are 3 things you can do:
a. find free printables on Pinterest - pocket scrapping cards, journaling boxes, backgrounds
b. buy digital SB products like Echo Park, Project Life, etc - much cheaper than actual products (print out the elements instead of digital scrapbooking with them)
c. design in Canva for free - titles, pocket scrapbooking cards, the sky's the limit! Use their pre-done templates or unleash your creativity and create your own
You could even start Pinterest boards by topic - pet printables, boy printables, birthday printables, etc. - so they're super easy to find and then you only have to print as needed (vs printing out things you end up not using).
10. Print your own photos
Another way to save money on your scrapbooking is to print your photos at home vs taking them in-store or having them developed online. The main way you $ave is because you can print only the photos you're going to scrap, as you're scrapping them.
Even with the up-front cost of the printer (spread out over however long you'll have it), ink, and photo paper, printing at home could be a real savings. Just do a cost comparison first to make sure you're saving money overall. Use my Kodak link for a possible discount on a photo printer, too :)
11. Buy versatile basics
Some supplies you'll use over and over again, so think ahead and be smart when purchasing your basics. Sure, that teal blue pen is pretty but how many layouts can you actually use it on?
Might be better to go with the black journaling pen*, the pack of black, white, cream, and kraft cardstock vs the jewel tones, or the washi tape in 'generic' themes (eg a pattern with pastel blue, pink, yellow, and green could be used for girl, Easter, spring, birthday, etc.)
*THIS ONE is my favorite
12. Become a scrapbooking or stamping consultant
Whatever money you make working with, say, Stampin Up, that's your scrappy budget! Plus you get a discount on the supplies you buy for yourself.
13. Share and trade with other scrappers
We rarely use the entire sticker pack and often have nice paper scraps that are a shame to throw away. Why not trade with your local scrapbooking friends or find some swap groups on Facebook, etc.? If you keep things fairly flat and no larger than a manila envelope, they shouldn't be very expensive to ship.
You could also meet up in person - have a crop or just meet for coffee. Have everyone bring their unwanted items and see what magic can happen! It'll be like Scrappy Christmas at Starbucks!
14. Get storage items at the local dollar store
Most dollar stores have pretty good organization items and for cheap! Look for the best deal on things like plastic shoeboxes, crates, shelving, bins, baskets, cutlery trays, and more.
15. Check thrift stores
Yep, believe it or not, places like Goodwill can be a gold mine for cheap scrapbook supplies. WE are diehard scrapbookers but - there are those who purchase a bunch of supplies and then give up on scrapbooking. Their loss, your gain, baby! (Also, a great place to find cheap storage items).
16. Use free tools that help you save when shopping online
Here are just 2 ways to do this:
a. When shopping online, use the filters they provide to do things like show you only items in your price range, so you're not even tempted ...
... and have the items shown to you in ascending order, i.e., from the lowest price first.
That way, the chances are better that you'll find some cool things within your scrapbooking budget and be very happy without even looking at the more pricey stuff. Phew, crisis averted!!
b. Use things like Honey and Camel Camel Camel when shopping online (especially Amazon) to track the price of an item you're interested in and be notified when it's at a good price, plus applying coupon codes from across the interwebs to see if any of them work on your purchase. It takes a few extra seconds but I've saved some really good money this way, and not just on SB supplies.
17. Ask for the discount
Some stores make it really obvious what discounts they offer and others, not so much. So ask! Michaels, for example, offers teacher, military, and senior discounts.
18. Stay informed, scrappy friend!
One of the best ways to save money on scrapbooking supplies is to just stay up-to-date on what's going on in ScrapWorld. The internet is your best friend. Join scrapbooking groups on Facebook, follow scrappers on Instagram, search "cheap scrapbook haul" on YouTube, that kind of thing.
If there's anything a scrapbooker loves more than scrapbooking it's getting a good deal on supplies and telling everyone about it 🤣. So keep your ear to the grindstone, my friend. [Extra points if you get the Good Will Hunting reference, heh].
As you can see, there are lots and lots of ways to save money on scrapbooking products and succeed as a budget scrapper.
Happy shopping and cropping! xo